The 2017 African Magic Viewers Choice Awards took place last Sunday and we all couldn't get enough of what our celebrities wore on the red carpets. Most of these celebrities came with the sole intention to slay and steal the spotlight. It was indeed a battle of the finest as we loved most of them however, we will only be picking 10 out of these incredible fashion queens as our best dressed. Take a look
1. Somkele Idhalama
On several occasions, Somkele has proven that she has a mind of her own when it comes to what she wears and how she wears them. This same mind came through for her when she stepped out rocking a dress made by her sister Adrea Iyamah. The thigh high slit mulberry dress turned turned several heads and with a body like Soms, what do you expect?
2. Toni Tones
For a dress that took 4 months to make, it would be a sin if it turned out to be wack. However, Toni took over the spotlight when she stepped out in a dress made by Yemi Shoyemi of SOA Concept. Toni rocked a magenta princess ball gown made with ruffled tulle. She took our breathe away.
3. Rukky Sanda
This Nollywood actress was all shades and forms of sexy. She stepped out in a super sultry burgundy dress that brought out all the right curves in all right places. We absolutely love her simple but elegant dress.
4. Lilian Afegbai
Lilian did a simple but extravagant number on us with her amazing off shoulder sparkling gown. The dress fit her body perfectly like they were made for each other and we are guessing they were because that is the only logical explanation for how radiant and beautiful Lily looked on Saturday. She rocked Roney Arewa clothing.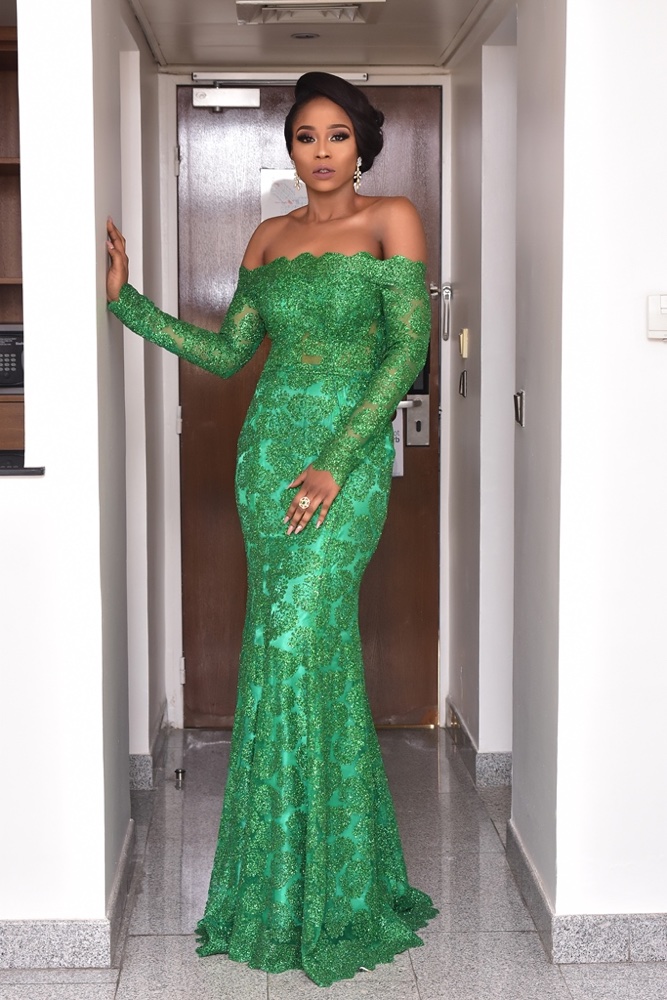 5. Ivie Okujaye
To think Ivie just dropped a super beautiful baby girl! She is definitely back on track and we are in awe. With her, Orange is definitely a new black. Ivie switched things up when she stepped out rocking a thigh high slit orange dress adorned with black floral cuts.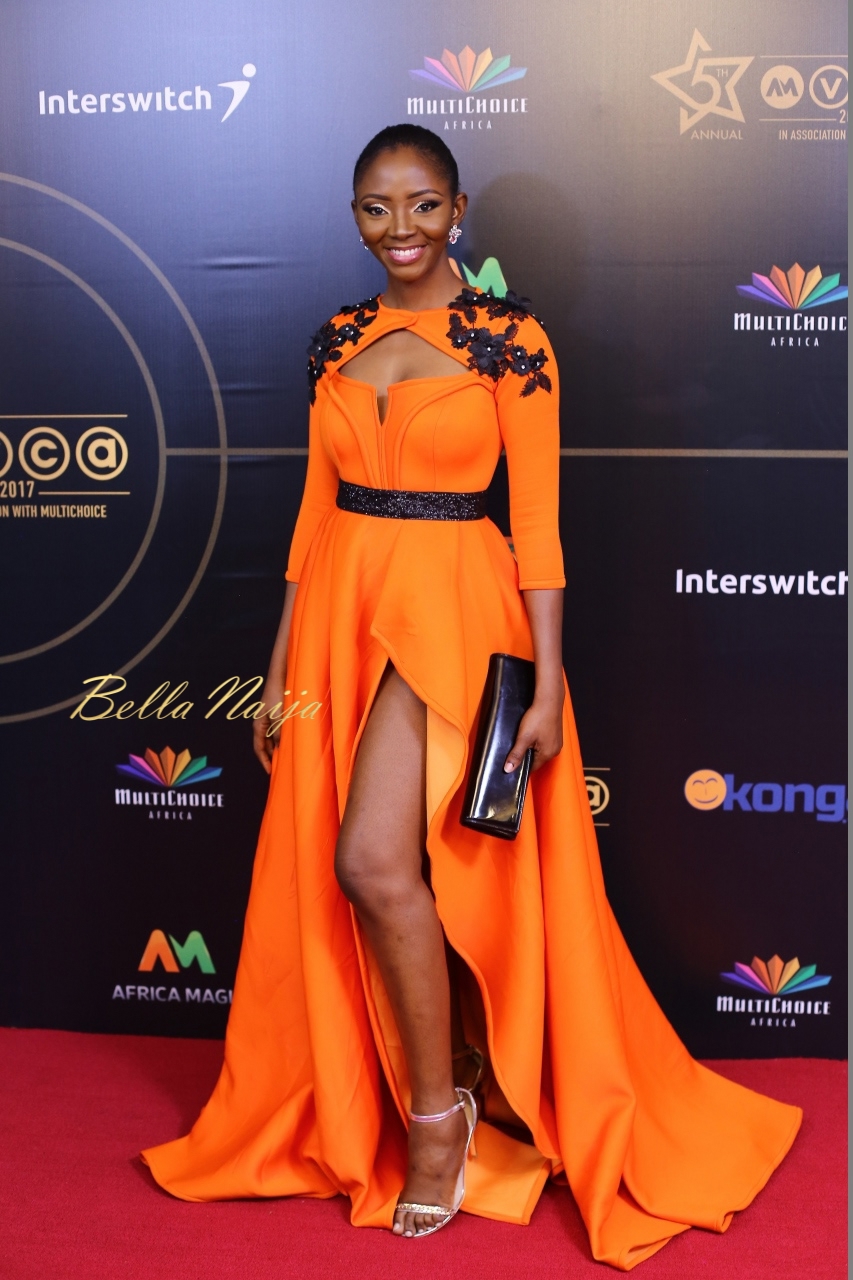 6. Toyin Abraham
Toyin Abraham rocked a lace gown and boy she served the sauce with several golden plates befitting for a queen like her. Styled by Tolu Labby of 2207, Toyin stunned in her tube gown with a golden brooch around her waist giving the look more of its beauty.
7. Beverly Naya
Beverly Naya gave us the perfect sexy and daring look. Her alter neck and backless peplum dress was bold, daring and some more. We couldn't get enough of the details on this dress and she redefined it with her melanin skin, fleeky make up and stylish hair style. She was styled by Weiz Dhurm Franklyn. She was a wonderful sight.
8. Inidima Okojie
Ini was the belle of the ball party. She looked like a total princess as she stepped out in a dress made by designer Derin Fabikun of Fablane by Derin. The pink tube and peplum gown was just all that was needed to give her the fab look that she got over the weekend and we can't still wrap our heads on how beautiful she looked.
9. Mercy Johnson
Mercy Johnson didn't give us a head start before pulling such cuteness and elegance in one masterpiece of a body. Rocking all black ensemble with a touch of red purse, Mercy gave us all of her in a breathtaking and gorgeous dress that had us blinking and thanking God on her behalf. Although, people had thought that Mercy was going to be showing some skin however, the beautiful and talented actress decided to slay on her own terms which she totally did. It was fabulous.
10. Ufuoma McDermott
Slay mama! Hardly would you ever see this gorgeous actress disappoint us on the red carpet but this time around, the ever sexy and gorgeous mama took us to another level with her blue overlay dress by Victoria Funmi Lakanu Label.