Nollywood has come a long way, when I say long what i actually mean is that Nollywood has striven so hard to be what it is today and I am proud regardless of the long way we still have to go, to be alive to see what Nollywood has made of itself. When we talk Nollywood, of course the success that is being celebrated today isn't just about one person however, the impact of one person just makes it better.
READ ALSO: Just Like Nicki Minaj, Oge Okoye's Unlooking Game Is Strong 
With that said, we will be celebrating one of the very strong pillars of what Nollywood has become. She steadily made her way from young age into this industry and today, she has been able to make a name, a brand and so much more for herself. We are talking about the beautiful and talented Nollywood actress, Funke Akindele.
Akindele Olufunke Ayotunde is an actress, a filmmaker, a comedian in her own right and so much more all rolled in one. Funke came to limelight after featuring in popular United Nations Population Fund sponsored sitcom; I Need to Know. This sitcom ran from 1998 to 2002. 'I Need to Know' was quite a very popular sitcom back then. The movie addressed the issues of girls, morals, aids and lot more. Funke played the role of a young opinionated and curious but highly intelligent secondary school student girl named Bisi. Funke's character was loved in this sitcom by many Nigerians who followed the story on our local channel because even then, Funke's talent and skills were simply evident for all to say.
Things began to change for Funke has she started doing both Yoruba and English movies as the beautiful actress is fluent in both. Son, Funke became a known name and featured in almost every popular movie back then. Everyone watched out for Funke and she became very fun to watch. Her interpretations were off the hook and it was only fair to know that Funke's name began to stick and her face became so familiar.
READ ALSO: Here Are Our Nominees For Best Dressed Female Celebrity At The AMVCA 2017 Red Carpet 
In 2008, Funke Akindele gave us all a run for our money when she stormed us with her hit movie "Jenifa". The film received 4 nominations at the Africa Movie Academy Awards in 2008 and Funke won the Africa Movie Academy Award for Best Actress in a Leading Role for her role as Jenifa. The film is the first installment, in what has become a very popular franchise in Nigeria, based on its very popular central character of the same name. A sequel was released in 2012, and a spin-off television series was launched in 2014.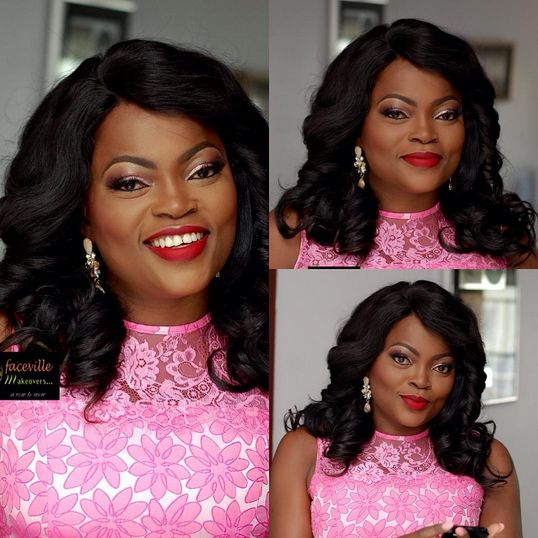 For a person who studied law but never practiced it, Funke became a producer almost as soon as she became an actress on the big screens. She learned all she had to know about producing a movie all on the job. After Jenifa, Funke gave us 'Omo Ghetto' a movie she said she wanted to use to empower youths from the ghetto making them realize they can actually be a better person.
Funke kept rising and rising has Omo Ghetto joined the many hit movies she had done in her career. Till date, Funke has featured in more than 150movies and has won several  huge awards to her name. Funke remains a darling to many and her passion for her work has inspired lots of young people across Africa.
At the last edition of the AMVCA 2017, Funke walked away with two awards Best actress in comedy and best TV series all for her hit TV series Jenifa's Diary. The TV series that has become one of the most watched and loved TV series in Africa. We cannot wait to see more of what Funke has in store for us. We celebrate the woman she has became today and the woman she will become.