The first thing that comes to your mind once you see that sign post, 'Welcome to Lagos State' is traffic. Traffic and Lagos state is just like Beans and Bread. In Lagos state it takes a lot of patience on the part of the drivers to avoid honking. In October 15, 2014, the 'No-Horn-Day' was introduced in Lagos, yet it was real struggle for Lagos drivers to adhere to the rules.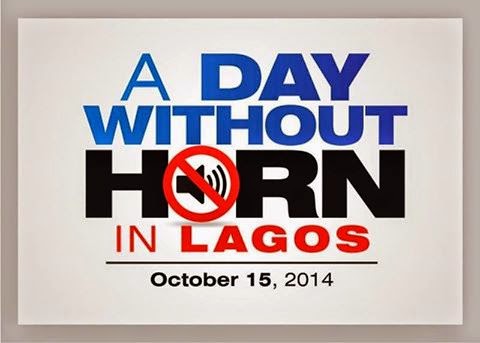 Why then do Lagos drivers honk?  Below are some interesting reasons we feel why Lagos drivers can't stop honking.
1. To Greet a fellow driver
Oh yes!! Lagos drivers honk to greet a fellow driver and sometimes while they are playing a song in their car they honk to follow the beat of the song… Funny right??? That's Lagos for you.
READ ALSO: Top Nollywood Movies To Watch Out For In The Cinemas This Weekend
2. The other driver 'shopping' on the highway
Thus can be very annoying. I always tell my colleague that you can rent an apartment in Lagos State, then drive in a traffic and you can buy every d*mn thing you need in your apartment, even knives! shopping on Lagos road is not restricted to the danfo drivers alone as even the private car owners buy things on the road, such as eye-glass, car-wipers, snacks and even kids toys..  Most times these drivers forget there are other drivers behind him, so the honking begins..
3. The Strolling Pedestrain
This is my kind of person, but the day car go jam us eh!!! Lagosians are naturally impatient and the pedestrain expect the driver to patient while he or she cat walks on the highway listening to music. Due to the lack of impatient from the driver he has no choice than to honk..
4. The Danfos picking commuters
Danfos are the main reasons other drivers can't stop honking. The Lagos Danfo driver is a hustler and a hustler knows no rules or regulations, so he does whatever will bring the money. Danfo drivers stop at unauthorised bus-stop for passengers to alight and do same when they pick passengers and most times they do this at the centre of a busy road.
5. The 'N20' and 'N100' Officers
An Officer of the law is supposed to protect the lives of its citizens and on a busy road ensure the free-flow of traffic. But most officers fail in the latter, instead they stop almost every driver to ask for N20 or N100 and this can cause traffic. Also the unnecessary checkpoints cause traffic too. So the more the traffic, the more the honking.
6. The dulling driver
A dull driver is a NO No in Lagos. So you have to be a bad sharp driver in Lagos so as to avoid other drivers honking at you for been so sluggish.